Last updated: 5 Sep 2018
Most labs are open around the clock, every day of the year, with appropriate key card access.
To obtain a new key card if you are a new student:

After the first day of class for a quarter, go to the UWT Campus Safety (DOU 180) office. You will be asked to sign a form, and your student financial account will be charged a deposit, which is returned when you leave UWT and return your key card to Campus Safety, because you graduated or, for any reason other than the summer break.

You only receive access to the general development labs (DOU 110, SCI 106/108) and one corresponding building entrance. Access to other labs is obtained by permission from the faculty manager of that lab.

If a key card you have is lost, damaged, or stolen:

Report it immediately to the UWT Campus Safety (DOU 180) office.
See below for specific buildings and labs.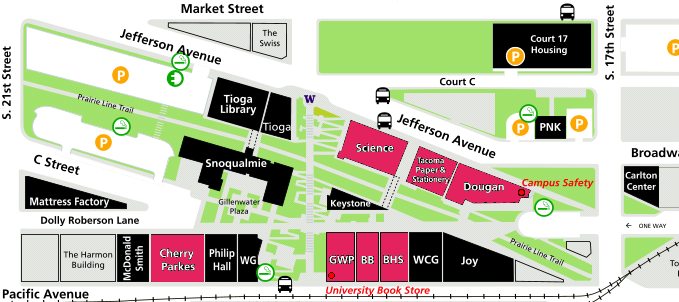 Buildings which contain SET labs are highlighted in red above.
Click on a building for hours and other information about SET labs, or choose from the following:
Lab Reservations
Labs may be reserved by faculty and staff for use by specific classes or reasons. Often when a lab is reserved, available workstations may be used if you don't mind the teaching that is occurring and don't interfere with the class, but the ultimate decision on this resides with the faculty member who reserved the lab.
Click here to see lab reservations (requires authentication)
Change Log
| | |
| --- | --- |
| 5 Sep 2018 | Added TPS Labs web page link. Updated lab buildings image map. |
| 20 Dec 2017 | Changed lab reservation web page link |
| 1 Apr 2016 | Changed lab reservation viewing to require SET membership |
| 9 Jan 2013 | Added better description of key card access |
| 28 Jan 2009 | Added lab reservations calendar |
| 21 Oct 2006 | Removed Pinkerton Lab reference |
| 14 Jan 2005 | Better explanation of hours of operation |
| 25 May 2004 | Original document |
---
Hours | Support Information | News |
Policies | Emergencies
---